Continuing my experiments with mobile journalism, this weekend I embedded myself at Womad Festival with the onsite radio team.
I used last year's project with Shambala as a template for my activity. The live blog in particular carried through similar elements, including a mobile friendly blog and distribution techniques – but there were differences, as I'll explain.
Wi-fi Network
Uploading material on a 3G network was a real problem at Shambala, and as I've mentioned before this made mobile journalism at last year's festival very tricky. Thankfully this was not an issue at Womad, which was down to the excellent site wide public WiFi provided by Etherlive. I spoke to the MD Chris Green and he told me in total they shifted 1TB (terabyte) of internet traffic this weekend – which I got really excited about, my wife didn't.
Kit and Tech
Last year I had an Android HTC Tattoo, Flips, dictaphones, SLRs and a Flash mic. 2011, I had an iPhone 4. My dependency on additional bits of tech to give comprehensive multimedia coverage was less needed. It also meant that I approached it differently. Video was shot and uploaded directly to YouTube from my phone and photos were initially shared on Instagram first. I still had my SLR but Instagram tended to be my first port of call. I would like to find a web app that makes it more useable and interactive online – not least an app that allows search and the opportunity to search for tagged photos and install slideshows. Further investigation is needed into the Instagram Realtime API and these interfaces. At Womad Festival, all my photos were run through Flickr with video and slideshows broadcast on YouTube.
Radio Womad
Being involved with the Radio Womad staff meant audio was a priority, features and "Secret Sessions" (essentially backstage acoustic performances), were broadcast on the radio and enhanced for the internet. Unfortunately a big question mark still hangs over whether we have the right to publish this material. I hope we can as the Secret Sessions were fantastic – particularly the session with Bomba Estereo whose improvised instruments included a fire extinguisher and a water bottle.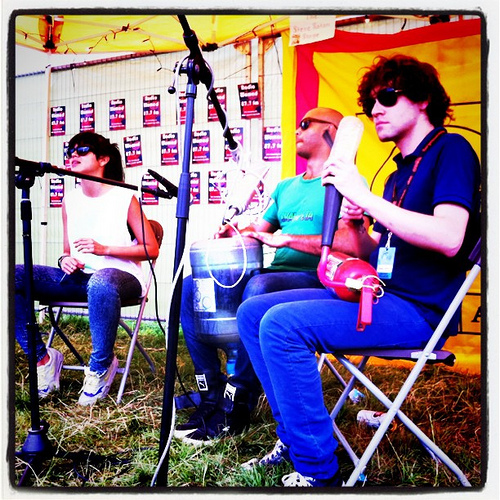 Radio Womad's backstage gazebo was a perfect platform to let the artists do what they want in their way and I'm delighted there's a digital archive of this ready to be shared with a global audience. I think it would be great for Radio Womad to have a shareable archive of the sessions.
Whilst the video was by no means professional it would offer music fans a glimpse into the unique, unplugged gigs. Also many of the labels and artists liaisons want to see the material so it seems a shame not to share with the wider public. Surely sharing this material would be good for everyone?
Staff
My experience with Shambala was essentially to manage a team who in turn managed our Press Gang (teenagers we trained to capture footage on our behalf). For Radio Womad it was about adding value, enhancing social media and putting a multimedia twist on the audio material. Although the Radio Womad team were largely impressed by what I achieved it was difficult to wrangle multimedia stuff (which they were taking personally) off them, in the end I managed to steal memory cards and copy clips from the station server to create my material.
The benefit of the team at Shambala is that we saw the festival through younger eyes. I'd love to work with Radio Womad again but I wonder whether next time the project might benefit from repositioning itself with the main website, which could also help sidestep any reproduction permission issues.
Moving on
Whilst for the moment the secret sessions may remain secret it seems to me that this is a direction that I'd been thinking about with Village Underground "In The Cab" performances. I know recording and sharing the performance of the artist Marques Toliver secured him several UK gigs because the material was so shareable and exposure extended beyond the 300 people who turned up to see him live. This is an area which I will no-doubt return to when I undertake some more work with Village Underground later this month. As for the festival itself and working with Radio Womad, it was a hugely enjoyable experience and I would love the opportunity to do something next year.
I've collected everything together at the working blog, Facebook, and have hosted all material on the Mashed Festivals Soundcloud Flickr and YouTube Channels.
I would love to know what you think – or if you're interested in working with Mashed Festivals.