Since October last year I've been researching and developing my idea of bringing Mobile Journalism to Music Festivals. As festival season kicked off the website started to take shape. With help from Caroline Beavon, a few early experiments in uploading and curating content took place at Glastonbury, Sudoeste in Portugal and Off The Cuff in Birmingham but the main target was a full blown operation at Shambala Festival which took place on August Bank Holiday weekend 2010.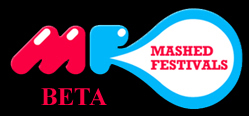 I've spent a lot of time developing the site and defining the brand over the summer, it's still very much in development. In fact, one of the main advantages of working with Shambala was that they were open to new ideas and willing to help us develop, but naturally there was a degree of reciprocation with this relationship.
Shambala suggested Mashed Festivals (MF) offered media training to teenagers and taught them how to produce online content using mobile techniques. I wasn't too keen to do this in the beginning as I wanted content on the MF site to be professionally captured from a team of journalists with different expertise. The best stuff for the site would be produced by my core team which would set the bench mark for the quality of the user generated content (UGC) – I was concerned the teenage training element would devalue this.
I couldn't have been more wrong. With the cooperation of Shambala we sent out an invitation to all teen ticket members and cherry picked a small team of six girls and boys who were enthusiastic and talented to boot who became the MF Press Gang. Their final output which comprised 40 stories on the mobile optimised microsite is of such a high standard that I'm now moving away from the idea of curating unfocussed UGC altogether.

I still kept my professional core team who had a breadth of experience but were able to specialise and train in certain areas. I offered advice and assistance in photography, Juliet Spare advised on audio and Jon Kennard's expertise lie in film and video. Caroline Beavon was in control of the process of collation and uploading.
Jon Kennard details his experience training for video with Hannah Lepper and Kyle Douglas here.
Both Iona Berry and Holly Game were studying photography at college. Iona brought her own camera and was pretty self-sufficient. We provided Holly with a camera and she needed a little more encouragement and guidance. I offered advice on what looked good online and stressed the importance of speed rather than spending days filtering and treating photos.
None of the teenagers had any experience in audio but wanted to learn so Juliet trained two members of the press gang. Josephine Gilbert learnt very quickly delivering perceptive interviews.
Piers Baker experimented with different media and with contributions from his girlfriend Phoebe and other members, delivered some excellent self contained packages.
Some of the best material came when the gang teamed up to combine skills. My favourite examples being the slideshows. Which included contributions from all the group.
My favourite experience was taking the Press Gang backstage for the first time, showing them how to gain access, secure interviews and find the person in charge! This resulted in a wealth of material and a superb interview.
I was very pleased the Press Gang didn't just stick to one skill. Being competent in a few different fields is important for journalism overall these days and vital for Online Journalism.