Deep Fried Funk, Halloween, Derry
On 'Hallow Eve' 30,000 souls descend on Derry city for the UK's biggest Halloween celebration. As the full-moon gets high and the streets are strewn with snogging teenagers and smashed alcopops, the monster mash-up gets transferred to the Nerve Centre. Even in the club your costume stays on; if you're not dressed up, you get a dressing down. Fancy dress here in Derry is all about being commended for toil, not making trouble.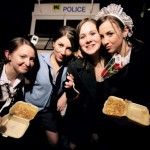 Creep back… I'm not-so-easy-jetting it to Derry the next day and I still don't have any fancy dress sorted. Into the breach leaps my girlfriend who suggested I borrow her dad's long leather jacket. Okay, so I'm thinking, Matrix, Lost Boys, (white) Blade but know that getting fake guns and samurai knives through customs might be a bit of a problem. Checking in on-line I realise that this isn't the half of it. I can't even take make-up and or any kind of gel, hairspray, or wax. Hmmm isn't it going to look like me (generic indie kid) – wearing a Goth's jacket.   We land in Derry and I'm wearing my jacket because it's cold and it would have meant a 5 euro levy if I'd have had it weighed. 'What are you going as?' I'm asked in the car from the airport. 'Umm at the moment you're looking at it…' Thankfully the kids toy store in the retail park has some half-price werewolf teeth 
Walking to our hotel we see people of every age, dressed up and skipping towards the banks of the Foyle. We watch the fireworks from the balcony of the hotel and by the time we head into town it's taken a turn for the terrifying. The town now belongs to the teenager. Snow White stumbles from a camouflaged gorilla (yes a gorilla) and points at me who's stunned by the carnage.  'You know who you look like?' 
'Erm, no tell me.' 'That there, Jamiroquai.'  
'Really?' 'I love Jamiroquai.' 
'Right,' I can't be bothered to point out the obvious 'Jay Kay is the lead singer – Jamiroquai is the band' tack and wonder how scary Jay Kay should be. I pop my teeth in, strike a pointy pose and growl. Over by the cash point, Wonder Woman is cold. Her boyfriend, Osama Bin Laden is fired up. He attempts to put his tea-towel on her shoulders but she rejects it.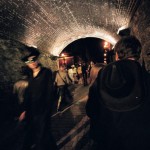 Inside the Nerve Centre things are much calmer. In fact, the atmosphere is a beautiful freakish harmony. Regulars of Deep Fried Funk play host to the friendliest sounds: ghoul dances with ghost, witch with wizard, soldier with 40's gangster, pimp with prossy, cowgirl with chainsaw wielding Karate Kid. In broadest bogside a 'female Rambo' asks me "What's this? Where's your fucking costume?"  
I suddenly realise I've disposed of all my props. I hastily put my coat back on, get my shades and teeth out my pocket, and mumble something about Matrix, Lost Boys before rendering myself inaudible with my werewolf teeth. She destroys my costume with a single stare. "Try fucking harder next time." 
No matter. The party in the back room is in full swing as Deep Fried regular Paul Hamill is switching with other regular Pepzi. The crowd are fizzing and staring at his freaky contacts which he insists are due to injecting bleach into his eyes. I have a proper boogie to a Peter, Bjorn and John remix and then get picked up with a spurt of northern soul which carries me through to the main act.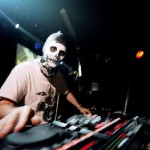 Ralph Lawson is on the main stage dressed as a Dead Presidents skeleton. He has plenty of bodies to 'go with.' His on-stage bouncing exacerbates his menace as he twists up the electro funk. Blink and you'll miss Jedi Middleton on stage without a costume. You see, the crowd is mind-tricked by his Cosmos sound of right- sided smashers and underground steppers. Lights come up alarmingly too soon at two am, where the party is taken back, out into the street and once more round the town.
Photos by David Bowen