Shambala 07, 24th-26th August
Until now a closely guarded secret where only the initiated may gain access, Dan Davies uncovers the pink sunned world of Shhhhambala.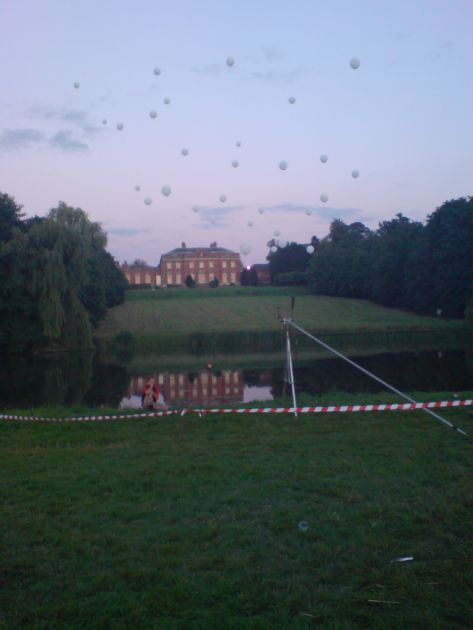 Shambala has stayed beneath the radar for the last few years. In direct opposition to the major Mean Fiddler players, no line-up is announced until you buy a programme and the site location (somewhere in Northamptonshire) is kept under wraps until you get off the A road. And even this road was shushed until we'd received the tickets.
The reason for its mystery is clear. Shambala doesn't want to go the same way as, say Glastonbury, with every rapscallion knowing its whereabouts, producing levels of terrifyingly well organised crime in attempt to breach the fence and consequently pillage the poor enlightened folk. Shambala wants to stay special.
This year, the combination had worked a little too well. This was chiefly due to the biblically proportioned weather that recent festivals have been beset by, and also that Shambala chose to go up against fierce Bank Holiday competition. Not really one for the Shoreditch twattiness of Cross Central, the nostalgic grungyness of Carling or the sardine packed-ness of Notting Hill, it, was a no brainer for me. Shambala is really for people who prefer festivals to hype machines. However, as I was offered tickets the rumour was that the reason for needing press this year was that they were currently one thousand tickets below the break-even.
Driving up via the scenic route in an attempt to avoid the Bank Holiday traffic, we had been told on our tickets that when the time came to leave the specific A road, our route would be marked with pink suns. We'd dreamt up a scenario similar to an extended fantasy treasure hunt with middle age runic signs carefully concealed in the most unfathomable of places. Maybe, we'd meet a wizard and he'd give us a magic potion to help us see clearer? Maybe a hobbit would give us a piggy back?
Slightly disappointingly, there were no magical creatures or mystical suns but only your common-or-garden 'Shambala' signs. Although as we parked up, a giant pink sun hung in the sky. The first riddle had been solved! If my interpretation of the signs were correct, a weekend of superb weather was ahead.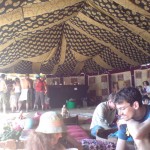 After a welcome glass of squash and purchase of a program, we pitched our tent. People who are used to massive festivals should understand at this point that even though we were camped on the edge of the site it was still only five minutes to the centre, no massive hill to negotiate or armband checkpoint to crowd into like cattle.
We head down to the main arena where we meet friends who had brewed up a potion of bitter lemon and vodka, and special chocolate from Amsterdam. Together we catch half of Alice Russell, tonight the headliner for the main stage. To be totally unfair, without Quantic she sounds like a very good wedding band. We wander over to the Rebel Soul tent which Birmingham / CND club night, Drop Beats Not Bombs is hosting. Here we see a superb MC set from Taharka who expertly mixes street beats with conscious lyrics and superb flow. As MC Angel comes onto the stage, she starts rapping about street crime and Rhys Jones. As she rants at the audience a punk turns to me and says in twisted Bristolian "'Ere I come to festivals to get away from the news!" The chocolate has been digested and we too need to escape the harsh reality. Up by a shipwrecked galleon I begin to have real difficulty. Following a bladder bursting toilet trip we head to the Dome tent and I can see Cakeboy and Doublethink beaming at me in trilbies and floating in a box directly above the crowd.
We crash into the Rainbow tent and go immediately to the dance floor. Then I'm staring at the vinyl records hanging from the ceiling and the centre-piece – a mannequin with many arms and fairy lights hanging from it. Sometimes it's a wonder any potions are needed at all, the magic is here. As if to illustrate my feelings, I watch an extremely tall couple snog each other's faces off directly behind me. My girlfriend drags me out with my freak very-much on and leads us to an up-lit island. We trap across a bridge and are met with signposts heading in opposite directions. Another elf tells us to go right, so we turn down a gleaming fluorescent path before entering into a glowing mellow clearing in the wood.
After an hour or so staring at a funnel with projections we move a hundred yards to peer at a shamanic structure. And we stare at it until it falls over. Presumably we'd succeeded in out staring the all-seeing-eye.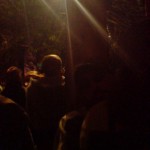 We move into another area with a glitterball, which is too intense so we head round to the hammocks. Unable to get in without falling out, we go and find some wooden thrones and sit there. A girl comes along and 'extends' herself by stretching up the back of it. Leaving, we watch an acoustic female singer before heading towards Grannies café and take a brandy coffee to bed, which takes about an hour to find amongst the mist and in the dark… and still feeling the chocolate.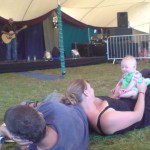 Saturday starts with a quickly grabbed breakfast and a trek over to see Vijay Kishore. I first mentioned Vijay around a year ago when he played a small stage at Moseley Folk festival. I said at the time that he captivated the audience (so much) that it would be a crime if he didn't headline the festival next year. Well, the Moseley Folk line-up has been announced and his name is not in fluorescent colours. Here, the crowd is once again totally mesmerized by his haunting falsetto tones and Indian fluctuations of singer songwriter ballads. I urge you to see him in intimate small tents before the festival world wakes up. His only drawback might unfortunately be that everyone expects him to VJ. Maybe you could get in a VJ to work with him, but what would accompany heart felt folk… tapestry?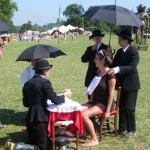 We look around the site some more and there's plenty of daytime activities to be getting on with. You can do anything from weaving to wooden spoon carving, from performance theatre to poetry. After watching one lucky chap being daintily served tea by ladies dressed as Charlie Chaplain, we head for the Cabaret tent. Here, we watch Woody Bop Muddy throw rice at the audience and smash bad records up. Complete fun for all children, inner and outer.
We go back to the tent only to find a friendly pixie who offers us some crystals. We gladly accept, grab our towels and head down to the hot-tub field. A tub has been booked by my friends, and we jump in. All five of us sit there in the free tub, a few feet off the ground with the temperature (fuelled by a wooden fire) rising. –We're offered a bottle of Cava and we say yes – just to pimp it up a bit.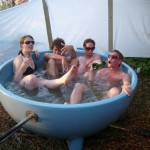 Revitalised, we head back to the tent and change into our evening dress. Saturday night at Shambala is fancy dress night.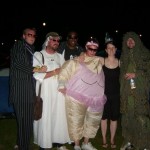 I thanked the sun-god that we had chosen wisely with crystals not chocolates tonight. As we march back to the main area for a Jiberring toasty, Savannah Soul wind us up. Their raw Afro-Brazillian funk pulses through our veins, as does our rum and ginger.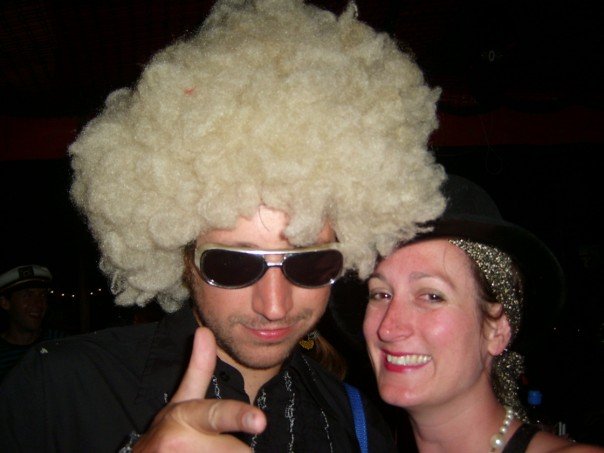 We sense the evening is going to be spent dancing vigorously in sweaty pits. The very excellent Rainbow tent allows us to start the hip shaking with their consistently excellent dj schedule. . As the crystals glimmer, Techno Circus has just started expertly combining hectic beats with amazing live drums. Midnight chimes and we flip to Eclectic Method in the Blackout tent. Their VJ live act is great but possibly too heavily hip hop for our current state of minds. Much better is to switch back to the Dome where the VJamm Allstars take the VJ crown. Sharp multi-media mashing up of every type of party swinger is cut into.
As tents start to close down we're wondering where our next destination will be, when suddenly we hear a rave horn summoning us once more in the direction of the magical island (which we realised earlier in the day wasn't quite an island but a forest over a stream). Again, we cross the bridge and this time at the signposts we head left. The massive disco ball glimmers in a glade as we skank the night away. As night draws into dawn we go from fire to fire having random conversations with friendly people. The sun rises once again pink and large. We go to bed in its full glow .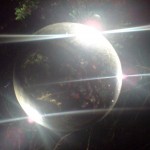 We wake up at about ten and the heat is unbearable. We go on a mission to find a hammock. After looking all round the wood and finding other people with the same idea we eventually find solace in a hammock stall. The staff don't seem to mind and even ask if we'd like to enter the gurning competition. Putting my loosened jaw into action you can see my efforts on the Shambala website.
It gets slightly over cast and we head back to bed to get more sleep. When we wake it's nearly seven, we mill about and watch bits of acts and meet up with more people. We have one last hurrah dance floor courtesy of Benny Blanco at the Rainbow Tent, then see out the festival from the island and the deep dub on the glitterball side of the nearly full moon.