Glastonbury 2007 Saturday Blog
Dan Davies gets down and dirty on day two of another Worthy Farm mud bath…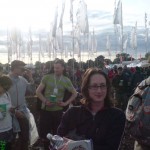 If you're doing Glastonbury right, then you should have missed all the bands you like and discovered some that you'd never heard of. You should have everyone's phone number on your mobile which has a dead battery. You should have missed the headliners and just drifted.
This is exactly what I did Saturday. After my phone died – I did drop it in a pint of cider on Friday night, which didn't help – the day was devoted to band randomness. In addition to the kooky broken English and disco beats of CSS, I also trudged across an excellent little string and piano band at the bandstand. I stumbled into Jazz World and saw Mr Hudson and The Library, another piano bashing, lyrical lead, pop band – kind of like Ben Folds being fronted by Prefab Sprout. The Infadels are always up for a laugh in the Dance East tent with their impassioned devotion to 'the band'. A quick samosa and then a snatch of Yoda had us giggling.
As the sun set there was time for that Glastonbury moment which you might just see on the telly, Paul Weller singing 'Broken Stones' as the sky went golden. As The Kooks came on and were predictably Ronseal about their performance, it was time to slide sideways again. I grabbed a toastie and treacle-waded up to the Trash Field and it was like skidding into Mad Max. Pneumatic souped up cars and Bravestar style steel horses encircled the area. I'm immediately drawn to a crashed plane wreck, behind this is two dirty bed-sit buildings, hacked out of 1970's New York and dropped, complete with trannies, into Glastonbury. The building was the entrance to Downlow, a disco-tech in the style of Studio 54. It was free with a moustache – or a pound without, and a free moustache. After a good boogie, I grabbed six donuts to get my sugar levels up.
After watching 'Space Cowboy' suspend weights by fish-hooks from his eyeballs and swallow various objects which could have caused multiple nasty ways of dying, I went in for a 15 minute Freakshow. Thankfully it wasn't just plain freaks on display but some clever pupeteering and costumes. These featured a pig lady who had to escape a closet abbatoir before she turned into bacon, an American woman with a tumour that looked a bit like Tom Jones (and sang like him too), a shrunken heads organ and Elephant Man Elvis.
I stomped down to the Circus field and was drawn to the sound of hip hop breaks and a steel band. On stage there are people rapping and performing some truly exceptional B-Boy moves and a possee of streetwize wee pappa girl rappers. The show was athletic and exceptional. However, the only downside to Glastonbury randomness is that you don't have a programme to check what their name was.
As the night draws to a close and the birds start singing, I grab a pasty and descend into a Bedouin run by the Theonian Community. I sit round the fire, 'Danimal' (like Dan, and animal) and 'Tang' turn up, with an acoustic guitar and play some of their own songs – and a Prodigy cover. A girl stands up and announces her "Rule number five for staying young: laugh lots and often, and if someone makes you laugh, spend lots of time with them." Wisdomic.
By that rationale if you could have Glastonbury every weekend, you could potentially live forever.