Glastonbury 2007 Friday Blog
The intrepid, slightly clumsy Dan Davies tackles Glastonbury in the best way possible – with no plans and no clue…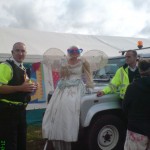 One of the first things that can knock you slightly sideways at Glastonbury is the culture of random kindness. More than this, even those who aren't going to the festival seem to 'get' the sunshine vibe. The first act was at the train station coming from Bristol on Thursday. I alighted at Taunton to be greeted by a Station Master (a pleasant round bellied chap with a stout moustache), who identified me as Glasto bound.
"What you want to do right is go to platform two and wait there, one to Castle Cary should be around in ten minutes, lovely."
Okay, I might have added the "lovely" but you get the idea. It actually felt like I was blessed, everyone, even the blue rinse pensioners on day trips to Bridgwater were spurring me on.
Walking through the gate when I got here, there's a burst of rain. I see my girlfriend and give her a hug. Suddenly, a guy in a sun hat and sun glasses lurches in and tries to hug us. I admit I did administer a quick jab to the kidneys to get him off. I'm sorry I know that in your mind you're just being friendly but to mine, it's flailing limbs attached to a Manc monkey, desperately trying to latch onto something before you falls flat on your bum-bag.
Later, at the festival I go for a wee, in a urinal which is on an elevated platform that had no roof or walls and looks straight out onto the street. I'm very surprised as I have previously suffered from 'bashful bladder' when confronted with a dark portacabin full of men coughing and farting, from behind, I often sink into a paranoid hole. Not a problem when they're in front of me on the street, it seems. So I was happily pissing in the wind when a girl waves at me.
"Well wave back then!"
"I'd love to but at the moment… I'm busy pissing!"
As we all knew it was going to, it did absolutely bucket it down on Thursday night. Soon all the green areas had turned brown and I wonder how many times people have said the words: "But it didn't dampen spirits," over the last 30 years with reference to the festival.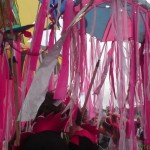 It's certainly true. People embrace the mud, quite literally. I saw one girl in a poncho and shorts with a carrier bag tied in the stereotypical British 'seaside handkerchief' stylee covered from head to toe in mud. She stumbled to a donut stall where she performed a little Gollum dance for the smile-feigning, sober staff. Elsewhere I see some kids making a mudman – to be honest, not nearly as aesthetically appealing or, indeed as stable as a snowman.
Even without actually getting tangibly involved with the brown stuff, most of us however are content to just slop along. When you're dry and content it's actually really mesmerising looking down watching the flecks of chocolate milkshake fly from your boots. Later in the Lost Vagueness the mud has the consistency of a sticky poo supporting your ankles, allowing you to sink slowly and demurely. Hang around too long and it sucks your wellies in. You have to call out for some helpful hippies, who are only too happy to kindly oblige…