Tapas of Sόnar (July 06)
I'm going to give the Blowback postings a rest for a while. Needless to say there's a whole year of other articles to reconstruct and re-edit.
My work post-Blowback needs less editing as payment and pressure to prove myself on my own terms takes over. I also had a lot more freedom in terms of space as this review highlights.
The sprawl of Sόnar can be mapped out in three ways. Sόnar de Día is the day event, based just off the chaotic La Rambla, in a combination of university buildings and contemporary art museums. Sόnar de Noche is the night time event which takes place in a massive aircraft hanger outside the city. The third I like to call 'Sόnar de Mash-up' and it happens in the whole of Barcelona whilst the festival is on – all the beach parties, clubs, after-clubs and bar side tapas chill-outs. It's 'Sόnar de Mash-up,' away from the festival but at the heart of it, which makes the event unique. The music, food and bottles of sweet lager act as a prism to fully capture and appreciate the city that spawned it. Here's my prime cuts…
A tapas of Sόnar de Día
The lift door softly opens in the Barcelona Museum of Contemporary Art, middle floor and we're smashed by a CD skipping mash-up of intense electro and Phil Collins. Several angular haircuts stare into their San Miguel bottles whilst leisure suited aviator shaded loafers, hang out in ground level sofas, which resemble man sized i-Pods.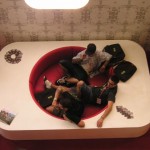 We punch for the top floor where we i-shuffle into a cheery Chernobyl exhibition and then into the next room – Blast's Day Of The Figurines. The room is decidedly hushed and all attention is focused on two spot-lit tables with tiny characters on them.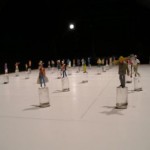 One group of plastic figures wait on a grid to be chosen. The next grid is a town where 'the chosen' have been placed. I chose a be-quiffed chap with a tan and a rucksack whom I christen Stevey Fitzpatrick Morris. I fill in the form and Stevey enters the game. For the next few days, via text message I'm informed of his progress; Stevey gets dropped in town and heads straight to the Queen Vic: "a real ale and horse brasses pub." He makes a friend called 'Jazzman', manages to avoid a riot, and a killer virus through just sitting there and consuming a pint of cider called 'Crossbow' – which when I picked it up for Stevey, I hoped was a weapon. For two and a half days I ignore Jazzman – who was definitely the 'wanker' side of Jazz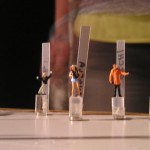 Back in my reality we amble into the promotional area. Here I pick up an origami stork and some 'urban-post-hippies' explain how it will help me in business before giving me a promo CD. We exchange myspace's and hotmails and I move on with my paper bird.
After stuffing my Adidas endorsed Sόnar bag with CDs, DVDs, art-packs and a load of magazines, it's time to check out some more music. We walk into a darkened room on the Sόnar Complex and there's a guy on stage with a day-glo road maintenance jacket holding a neon tube like an electric guitar. He's running his hands up and down on the fluorescent fret and tramping on a series of distortion pedals. Behind the cordon the crowd are assaulted by yawling feedback. "Hmmm… Jazz or wank?"
These were my first impressions of the musical noodlings and artistic chin strokery over the weekend. Sόnar de Dia gives you a real feeling that something is being pushed even though it's often deliberately acerbic, some of it is mind-blowingly brilliant. Senor Coconut and his orchestra have a smart-arse concept (a German who surrounds himself with Latin American's to do Salsa'd up Kraftwerk covers) but made the entire crowd move their feet rather than reach for their chins. Modified Toy Orchestra follows a similar 'name on tin' formula (this time a bloke surrounds himself with modified kids toys and fiddles with their sound circuitry for the pleasure of adults), but again is too enjoyable to furrow the brow.
Fat Freddy's Drop are easily my highlight. DJ Fitchie AKA Mu (a large Mauri who everyone assumes is called Freddy) adds more electronic rhythms and sonic Dub sirens for the Sόnar crowd but it's essentially the organic translation of well crafted songs which wins them over. One vocally flexible and enigmatic lead singer, backed by two sweet soul sisters, a funky rhythm section and a three piece brass section (two who look like they were in The Specials and one who looks like a 'special' member of Goldie Lookin' Chain on a music therapy course), complete the performance setup. It's sunshine and smiles all the way. 
We wander aimlessly, following or walking against thousands of others – walking aimlessly. We drift in and out of massive air hangers chocked full with others. One Self are the first solid beacon on the horizon. Their conscious lyrics being spat with precision by Blu Rum 13 whilst DJ Vadim supplies the sharp samples, then Yarah Bravo steals the show. We catch a bit of Laurent Garnier's crazy set which seems to be leather clad lingerie models whipping each other on stage. We wait for hours by the dodgems, and then the insanity of the night kicks in and we're thrown into the musical frenzy. DJ Shadow introduces a new form of hip-hop that he and his new York buds call the Hyphy movement, it's rubbish. Two MC's shout incoherently, occasionally asking the crowd a. they're on drugs; b. whether they've ever smoked weed or c. if they're a bunch of alcoholics. I ask my mate Dara whether he'd like to go and see Jeff Mills but above the shouty movement one Chinese whisper leads to another and we fall about laughing. Jeff Mills is playing his 10th year here and suddenly, somewhere, in the middle distance, in front of millions, he slices up Techno tracks with seasoned expert not-a-finger-on-the-vinyl mixing. Somewhere else minutes or hours later, Tiga is singing a dirged up version of "When Doves Cry."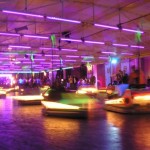 I'm poised on a broken down dodgem trying to get arty shots in slow exposure. Suddenly a car hits mine and I'm propelled over the heads of the monged out loons who have come to rest here. That's kind of it for me.

A tapas variadas of Sόnar De Mashup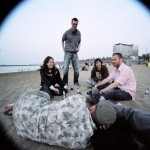 It's about 5 in the morning, we've been sat on this beach for hours. A party finished in a bar earlier on, now we're the only ones left. We're being propped up by a portly local who comes by with a freezer bag every 20 minutes and sells us 'Cervesa.' We've just met a Danish record promoter who brought with him DJ Shitmat (from the UK.) Shitmat came over and promptly collapsed and started foaming at the mouth and has been unconscious for about an hour whilst my mate Dave argues the finer points of what makes a true artist with his Dutch representative. Is Shitmat 'representing' for the
UK by eating sand and unconsciously cradling his bollocks? Is this Jazzman?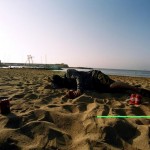 As the sun begins to rise we meet a French guy who works locally and starts bemoaning everything. As the sun really comes up, two plastic American teenagers, one blonde and one brunette, with matching rectangular smiles join us. One of their Uncles owns the bar behind and the sand we're sitting on.
She talks about how Uncle hates people doing unofficial business here but buys a 'Cervesa' from our friend (who by now trusts us implicitly to look after his bag whilst he continues to ply his trade) and we convince her a Thai massage is the best five euros you can spend on this beach.
As even the hard drunks get replaced by older and really old people – we start to fry. We leave our spot with the French guy sleazily moving in on the blonde with the big breasts. Our 'Cervesa' man leaves at the same time content that he's done a days trade mostly through us. We head along the promenade and pop into a beach side convention for old people. Here we watch a demonstration of a new Stannah stair-lift and catch performances from stroke victims miming to old war songs and line dancing pensioners. Other pensioners look on eating entire roasted animals.
It's time to escape. We get a taxi back into the city and walk through Park Guell, mosaic dragons and Hansel and Gretal bubble-gum styled houses and columns at jaunty angles. Half way up we find a table, buy a coke and sit in the shade in silence. Sόnared.