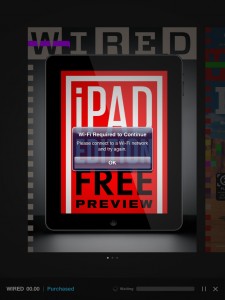 When the iPad launched last year few magazine publishers were as prepared as Condé Nast. It leapt out of the blocks announcing plans for mobile incarnations of Wired, Vogue, Vanity Fair and The New Yorker.
But all this could be about to change. Senior CN execs are stepping back efforts on iPad editions, following a less-than-impressive financial return from a signficant investment. Ad Age quotes an anonymous Condé Nast publisher who, while keen to point out this is not a reverse of ambition, admitted that creating iPad apps for all publications is no longer the goal.
"They're not all doing all that well, so why rush to get them all on there?" they say.
So what can we learn from Condé Nast's experiments?
Apps are fun but costs win out. Research commissioned by Condé last October (via Tom Foremski), involving 100 hours of one-on-one interviews and 5,000 in-app surveys, found that readers commonly spent more time with the electronic version than the print equivalent. Condé concluded:
"Users responded positively to the additional functionality of the iPad. Therefore advertisers that included compelling and unique experiences, that were self-contained and exclusive to the environment, were liked more than those that did not."
But did they go far enough? Dominic Jacquesson, author of TheMediaBriefing's report Mobile Strategies for Media Owners, told me today that Condé's decision to use Adobe's Publishing Suite to create its apps tied it too much to the print model.
Jacquesson says: "To their credit, they embraced the tablet opportunity early on and firmly. However, in partnering with Adobe, it was clear that they were going to treat tablet apps as print replicas with bells and whistles thrown in – both from an external audience perspective and in terms of internal production processes."
Condé Nast has adapted to this situation. Special editions, such as location-specific Traveller apps or $0.99 Vogue exclusives have done well.
Cost And Subscription
Leaving aside Condé Nast's free, mobile-specific applications such as the popular Epicurious, its magazine apps are highly priced. In the UK most editions in iTunes are priced around the £3 mark. Data from analysts at Distimo shows that only 45 percent of iPad apps were in this price bracket from January-December 2010.
It could be that the pricing is too close to newsstand price which doesn't match up with the expectation of an audience that is used to free web content. However, the launch edition of Wired's iPad app was $5 – the same as the US magazine cover price – which was welcomed by some overseas mag readers who were paying as much as $14 an issue.
"They have kept their app prices too high per issue to entice either new readers to have a peek, or existing readers to switch" says Dominic Jacquesson. "The resulting repeated droop in downloads between issues 1 and 2 for each title they app'ed is definitely a case of 'I told you so,' and I fear it will be at least another year before they significantly shift their mobile strategy to a more sustainable footing."
An appy future ahead?
Despite those early trouble, Condé Nast and constantly re-evaluating their mobile strategy Condé Nast have left room to manoeuvre. For Jacquesson this has meant that it has possibly averted financial collapse.
"The upside for Condé Nast is that its print titles are amongst the best in the magazine sector, with a particular appeal in emerging markets worldwide, and the economic recovery has therefore benefited it earlier than most. So its fears back in 2009 of a structurally permanent advertising collapse have not come to pass…at least, not yet."
And for the rest of us, we can learn from its mistakes before we implement them.
We'll be discussing all these issues at TheMediaBriefing's next brilliant conference Mobile Media Strategies on June 14 in London. Early Bird tickets are available now.
Picture credit: Robert Nelson via Flickr.