Following a meeting with Auro and Clément at the beginning of April, I managed to sort some dates to come down and cover activities at Village Underground. Before I came down it was important to have some social media networks more sorted.
Village Underground now has a Twitter Account, a YouTube channel, and a Flickr site. I've also been overhauling their Facebook and Myspace presence. At the simplest level this has meant using all the logos and backgrounds so branding is carried across all elements. It also means effectively pulling content from elsewhere and thinking about re-distribution.
Raw Material
You may have noticed from my last post on Posterous that I had more plans for extra platforms. However, after I met with Raw Material I decided that this isn't the best solution.
Raw Material will be responsible for adding content across these sites after I've finished and they weren't interested in unnecessarily complicating the brand. Because I was pulling all the current channels over a hectic weekend prior to my VU residency, I did perhaps hastily name some of these sites. For example Village Underground's Twitter identity may get changed due to 'VillUnderLondon' not showing up in search results. The small following built purely through re-enlivening Facebook and following Twitter mentions was also balked at and doubtless audience figures will rapidly increase in the professional hands of Raw Material. I hope it will be better than this Insight screen grab of previous Facebook Group activity.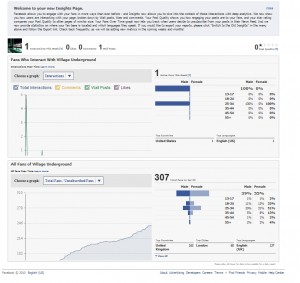 They also particularly questioned the need to have a real presence on audio sharing platforms such as Audioboo or even Sound Cloud. Auro wanted to put mixes of club nights online but Firgas from Raw Material mentioned PRS "would be all over it." Firgas also doubted there would be much interest in detailed musical playlists or podcasts as VU's music doesn't have a particular sound. Instead of creating Spotify or Last FM playlists, I added a playlist of forthcoming acts to Myspace.
We also chatted about using video clips of live performance. We decided the best decision here was to take down if asked. Any full length interviews and performances that take place in one of the Village Underground driver cabs will need a separate release form. I will post separately about this material or you'll probably see content pop up on all the channels mentioned.