I'm fascinated by the capabilities of Geolocation so I decided as part of my multimedia portfolio I'd play around with some audio which was recorded on a Home Of Metal tour, hosted by Chris Phipps in March 2009.
Once I'd re-located the sites and venues using my own memory of the walk (with a little help from Birmingham Music Map) and Chris Phipps himself, I firstly geolocated everything in Audioboo then inserted the information on my own map.

View Home Of Metal Birmingham Tour in a larger map
My original plan was to embed audio onto the pinpoints, but currently Google Maps doesn't allow you to use any kind of audio player. The nearest I could achieve was to embed a YouTube slide-show into my map – click on the Town Hall pinpoint at the top of the map as an example. As I mentioned in my last post, my main objections to YouTube are its clumsiness and untidiness, it would be better if you could resize the slideshow and view it like this:
A site called Woices uses Google Maps API to embed a walk. So far the site pretty much does what I can do below, with a touch of Social Media added.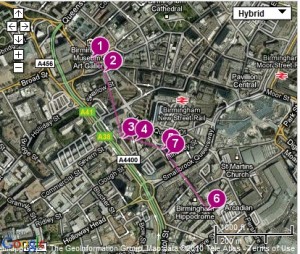 More interesting is the Infospot which allows you to customise the site and access to analytics. In addition to the normal download option it can be triggered by Geolocation for iPhone users. I've been playing around with a trial version which isn't viewable to the public.
To make this customised site viewable it would cost 59 Euros a month! This would be great if I had funding for this project and there was some kind of revenue model. A more cost effective way of producing this would be to set up a map in Flash, research Geolocation and maybe build a phone application myself.

If this was to be a more permanent serious tour project, I would also need to pay Chris Phipps for the use of his material. And even ask him (and others) to talk about other venues and their experiences of Birmingham's musical past. I would also need to consider how the newly relaunched Home Of Metal site is developing. Home Of Metal is after all a place where non-professional Heavy Metal fans can share their own experiences, memories and stories.

Finally, I need to consider how far this has moved from being a journalism project. News sites often geolocate stories and many online news projects can act as archives to preserve the past. But is recording the past, and creating and maintaining tours the responsibility of the journalist, a civic society or a historian?

STOP THE PRESS… @hadleypaul just alerted me to this beauty by @buddhamagnet


View Boobase Home Of Metal marks in a larger map

Te great thing about this is that it finds the boos by tags, so if I were to add more venues to Audioboo and tag them 'Home Of Metal' they would also pop up here!

Finally, I've created a full podcast with musical interludes to give you time to walk between pinpoints.

[audio: http://dandavies23.files.wordpress.com/2010/03/home-of-metal-walk.mp3]

For added visual treats and 'chapterisation' why not download the enhanced podcast?
(right click, 'save target as)