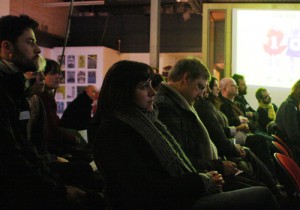 Just before Christmas, I was invited by Capsule to talk at their first KMKY event in association with Created In Birmingham.

I've just found the audio on my dictaphone today so thought I'd put my talk online for you. You can right click 'save target' for the MP3 here or you can listen to it below.

I was first on so Jon Bounds introduces the concept at the beginning.

[audio:http://dandavies23.wordpress.com/files/2010/01/capsule-kmky-dandavies23.mp3]

In addition to introducing ourselves we were asked 'What would you do with a space like Vivid'. I decided what Birmingham was missing most of all was an informal meeting place for artistic creativity to flow. As it turned out there is one, but the fact that I didn't know about it until the talk probably says more about the success of this 'informal chit-chat' night.