Since ASIWYFA first dropped their incendiary first LP I've been keeping an eye firmly fixed on them. But, even though I wrote about them for Metro, I've been forced to miss several of their gigs. Instead only catching snatches of them energetically leaping around on YouTube.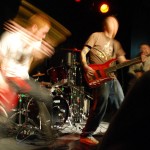 This week, despite having a tiring day at uni, I couldn't resist the opportunity to finally to see them unpixellated. The Belfast-based lads were supporting This Will Kill You so I went down nice and early and got myself pressed up against the barrier in an active attempt to relive my teenage years. I've mostly moved away from rock bands in the last 10 years but there's something about this band that stirs the young rock beast inside me.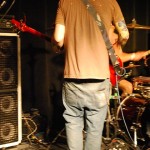 Only against the barrier can you see flying splinters from shattered drumsticks, the sweat dripping from bent heads onto their guitars. They band's name might imply considered distance but the only way to watch the band up-close in full visceral effect.