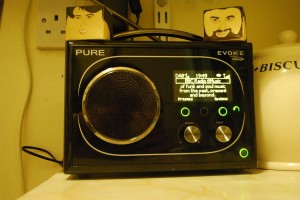 I was at 24Carrots on Saturday and bumped into two producers asking for our opinions on BBC 6Music. I was more than happy to be filmed as 6Music is my favourite radio station.
I've been listening ever since I got a digital radio for Christmas 6 years ago and pretty much like every show they do (except George Lamb – and I'm not even going to hyperlink that!) but a final thing occurred to me later on that I'd like to share.
I have this theory that Britpop wouldn't have happened if Radio 1 hadn't brought in the changes they made under Matthew Bannister. The most important element wasn't the notorious clearing of DJ dead wood (which is incidentally why I dislike Lamb, I remember Simon Bates) but the re-invigoration of the playlist. Suddenly eloquent intelligent pop was being listened to by a mainstream audience. Of course it still had to strike a national chord but it was listened to.
I met Mark Riley (AKA The 'Hapless' Boy Lard) at Depercussion Festival in Manchester a few years back and told him how much I liked his 6music show. He was appreciative of my praise but added "Yeah. but it should be on Radio 1 shouldn't it…"
Many people of my generation have a soft spot for Mark (Radcliffe) and Lard but it wasn't just their sense of humour or deep respect for music but also the breadth of art and literature covered in the show. In fact many people I know have favourite comedians, poets and writers that can be traced back to Mark And Lard. Bannisters changes elevated art to be discussed on air even giving some airtime to comedy shows in their own right for the likes of Collins And Maconie, Lee And Herring – paving the way for the superb Blue Jam by Chris Morris.
I know radio's changed and we're now all filtering our way through our own personalised schedules these days but there's something to be said for a broad range of interesting art to be available on the mainstream. Bringing arts and comedy shows onto 6music might be moving away from the 'music' part of their edict. So where else do we go for our cultural spark? Is it Radio 4 or should it be Radio 1?